The face is one of the most prominent parts of the body and, unfortunately, one of the most prone to age-related change. And aging itself is obviously unavoidable. But what if there was a nonsurgical, minimally invasive treatment that reversed the signs of facial aging: signs like skin laxity and sagging or baggy tissue. That's what FaceTite is: a groundbreaking device and procedure that helps to define the jawline, reduce the appearance of fine lines and facial wrinkles, and roll back the accumulated effects of aging and environmental exposure. (Interested in seeing these benefits in other parts of your body? BodyTite can get you there.)
At ARC Plastic Surgery, we provide personally tailored FaceTite treatments to help you reclaim your facial youth.
Benefits of FaceTite
FaceTite is entirely nonsurgical
It's minimally invasive and involves minimal pain or discomfort
FaceTite leaves no scarring
Risk of side effects are minimal
Recovery and downtime are short and simple
Results are immediate and appear completely natural
Results are long-lasting: 5+ years
What Is FaceTite?
FaceTite is a minimally invasive cosmetic procedure that uses radio-frequency assisted lipolysis (RFAL) to take as much as several years off of the face. Nonsurgical, leaving no scars, and requiring no downtime, consider FaceTite an ideal combo of liposuction and radiofrequency energy treatment that physically removes fatty tissue, while tightening and toning the skin itself.
FaceTite's special cannula safely delivers a stream of RF energy into the subcutaneous tissue beneath the skin. This RF energy converts into thermal (heat) energy, spurring the body into the production of two of the most important components of youthful, healthy skin: Collagen and elastin. These components diminish with age, resulting in skin laxity and a lackluster complexion. FaceTite helps to restore that youth.
FaceTite's Specialties
Removes excess fatty deposits
Reduces and repairs facial skin laxity
Decreases jowls and/or a double chin
Lifts hanging submental tissue (under the chin)
Reduces the appearance of fine lines and facial wrinkles
Tailored Treatment
A FaceTite treatment can be tailored to address your own unique concerns. In a personal consultation, our expert aestheticians will discuss your goals for the procedure and recommend the best treatment plan, whether this includes addressing skin laxity in particular areas, or removing excess fatty deposits.
The FaceTite Procedure
To begin, local anesthesia is used to make the procedure as comfortable as possible. A small incision is then made to deliver a solution beneath the skin, and the two probes of FaceTite are used in the treatment area to safely deliver the radiofrequency energy that will do the work of removing fat and tightening the skin.
Your aesthetician adjusts and controls the temperature and location of the device to produce a natural, youthful appearance. A similarly small incision is used in each separate treatment target area, and the motions are repeated until all of your concerns have been addressed. Throughout the treatment session, radiofrequency energy is breaking down fatty tissue while concurrently activating the body's natural production of collagen and elastin, effectively contouring the face while leaving the skin smoother and more taut.
FaceTite Before & Afters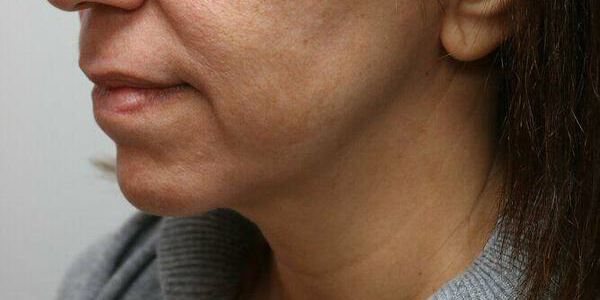 Before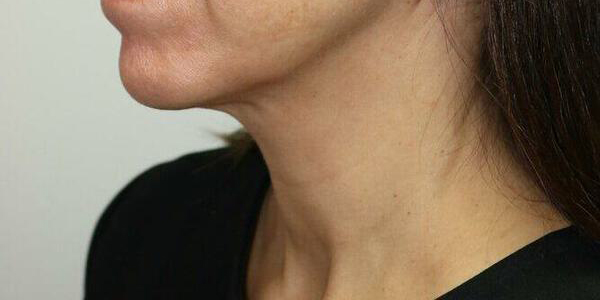 After
Gallery >>
Recovery
Most of our FaceTite patients return to their regular social and professional activities within 24 to 48 hours of treatment, making FaceTite an ideal treatment for busy patients who need some of the benefits of a facelift without the downtime. If you're currently working from home, the procedure is particularly ideal at this time.
Aside from recovery time itself, patients should expect the following mild effects postprocedure:
Slight swelling for the first few days
Localized bruising, usually very minimal
Possible numbness and tingling for 24 to 48 hours
Pinkness in the skin for 24 hours after treatment
Candidacy
As FaceTite is a minimally-invasive, non surgical procedure, most patients make great candidates for it. If you have unwanted or bothersome facial skin laxity, or fine lines, wrinkles, and folds, or early jowling, you would likely benefit from FaceTite. Please don't hesitate to reach out and discover how FaceTite can help you achieve your cosmetic goals.
Your new life starts here