Medical Reasons for Rhinoplasty
Rhinoplasty can help improve some patients' quality of life, not just appearance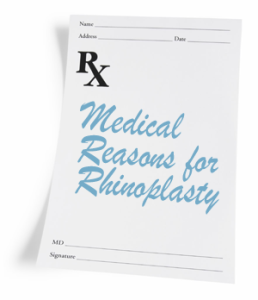 When most people think of Miami rhinoplasty – or nose job surgery – they think of a cosmetic procedure designed to change the size and shape of the nose. However, there are many patients who undergo rhinoplasty out of medical necessity.
Some of the more common medical reasons for rhinoplasty are deviated septum, cleft lip and cleft palate. Patients with a deviated septum have a condition in which the center cartilage of the nose, the nasal septum, is not centered. This makes it difficult to breathe through the nose and is often an underlying factor in recurring sinusitis or sinus infections.
Some people are born with a deviated septum, while in others it is the result of a nose trauma that shifts the cartilage. The surgery to repair a deviated septum is called a septoplasty, and it is often done in conjunction with a rhinoplasty. This is because a deviated septum frequently comes hand-in-hand with a crooked or skewed nose. It's usually best to address both the septum and the structural support of the nose in order to fully repair the problem. This will ultimately improve the patient's ability to breath. Usually, snoring lessens and exercise becomes easier after the procedure.
Cleft lip and cleft palate are birth defects which are usually easy to fix through plastic surgery in Miami. Without surgery, children can have trouble eating and therefore receiving the nutrition they need to grow and thrive.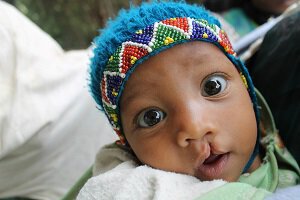 Children with these problems often have nasal defects as well, sometimes called "cleft nose." Deviated septum is quite common with cleft nose, along with other functional defects like misshapen cartilage, deficient inner lining of the nose, and abnormalities the facial bones surrounding the nose. A cleft rhinoplasty can address these problems and restore not just appearance but also function to the nose. Many times, more than one rhinoplasty is required over the patient's lifetime in order to achieve the desired result.
Other medical conditions can require rhinoplasty as well. Nasal inflammation from chronic allergies can prevent normal breathing, but this can sometimes be alleviated by widening the nasal structures that block air flow when inflamed. Polyps and other nasal masses can also necessitate a rhinoplasty, as they can block nasal passages and widen the nose.
While most people believe that rhinoplasty is done for purely cosmetic reasons, there are a number of valid medical conditions that make the procedure necessary. That said, a functional rhinoplasty and a cosmetic rhinoplasty are often done together. Malformed noses are frequently associated with difficulty breathing, and repairing these issues can help improve a patient's quality of life.