Restore Flat Abdominal Contour with Abdominoplasty
Life-changing events such as pregnancy or excessive weight loss are some of our most lifetime experiences. They give us a sense of well-being and fulfillment, but these life experiences can take a toll on our bodies. Skin can only be stretched so far before it looses some of its ability to snap back. When diet and exercise fail, people can feel unconfident, unattractive, and eventually lose interest in maintaining overall health.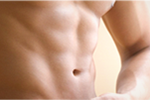 Unattractive, stubborn loose skin around the abdomen, which refuses to melt in spite of rigorous dieting and exercising, may be the result of prior surgery, childbirth or significant weight fluctuations. Whatever the reason, people want it gone. Thanks to technology and increased medical advancement in plastic surgery, it is possible for people to achieve their dream body shape that diet and exercise fails to accomplish. Dr. Jeremy White explains, "An Abdominoplasty is a tummy tuck procedure for those who wish to have toned and firmer abdominal contour. This body surgical process is ideal for people with loose, hanging and unwanted skin on the front of the abdomen."
 
Dr. White adds, "This procedure not only removes excessive skin from the abdominal area but also repairs and decreases any gaps between the abdominal muscles that may have developed during pregnancy. It moves the belly button to a natural location and shifts the resulting abdominal scar low enough to be well hidden."
 
ARC has the option of a Mini Tummy Tuck for patients with loose skin present only in the lower portion of the abdomen. It is a much simpler procedure as it requires less surgical dissection without necessary movement of the belly button.
 
Thus a tummy tuck surgery performed by an experienced and highly skilled plastic surgeon in Miami or anywhere across the world will typically be able to create a structurally stronger abdomen by removing excess skin and fat from there and repairing muscle laxity which A tummy tuck alone and sometimes in combination with liposuction can help in achieving the much desired hour-glass, bikini-ready figure that many dream of.
 
ARC Plastic Surgery, a Miami reconstructive surgery clinic of Dr. Jeremy White, announces a new procedure: Abdominoplasty surgery for extremely toned and firm abdominal contour. According to Dr Jeremy White, a renowned plastic surgeon in Miami trained in both plastic surgery of the entire body and Otolaryngology,