Revision Rhinoplasty
Sometimes, either through lack of communication or skill, a patient emerges from a procedure dissatisfied with the results of the nose job. In the hands of a skilled Miami rhinoplasty surgeon, significant improvement can be achieved with a second, or revision, rhinoplasty.
Since revision rhinoplasty is much more complex than working with a blank slate, choose a surgeon that has an eye for form as well as function. Surgical experience, pre-operative planning, and meticulous surgical technique are essential to a successful outcome. The goal is always to create a nose that looks natural and functions properly.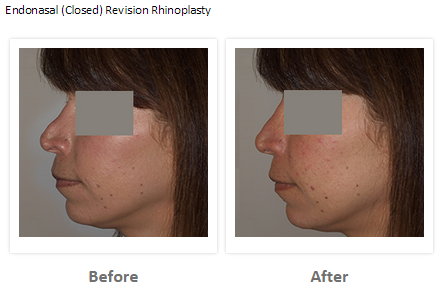 Choosing to proceed requires deep thought and education. Because of the complexity of the procedure, a revision rhinoplasty can take up to 3 times as long as the first nose job. The surgeon has to account for cartilage and bone that have already been altered, or in some cases removed, and scarred tissue that is more difficult to work with. Additionally, the nose continues to change as we age, whether or not one has had surgery. Secondary rhinoplasty or minor touch-ups may be needed to produce or maintain the best result.
How is Recovery after Revision Rhinoplasty?
Most patients that undergo revision rhinoplasty do not experience any pain.
The nasal swelling after a revision rhinoplasty varies. As previously stated, swelling can take up to a year to fully resolve. Even though the swelling after a revision rhinoplasty takes some time to go down, most patients see visible improvement just a week after surgery.
Am I a Candidate for Revision Rhinoplasty?
The ideal candidate for revision rhinoplasty is a healthy person who is not content with their previous rhinoplasty result. Also, a patient cannot be assessed for a revision rhinoplasty until a year after the first surgery, because the tissue is still healing, to avoid a surgical error.
It is important to know what can realistically be achieved. As humans, we strive for symmetry in art and engineering, and can forget there is beauty in flaws and imperfections. There is no "perfect nose," but there is a nose that is perfect for you. Remember, surgery is not a perfect science. Unrealistic expectations and the resulting dissatisfaction after surgery can be avoided with clear and open communication with your surgeon.