The State of Plastic Surgery
Every year the American Society of Plastic Surgeons compiles the statistics of the cosmetic plastic surgery procedures performed in the United States for the previous year. Like a report card for the industry, it defines trends and dispels rumors.
So, what's going on in Cosmetic Plastic Surgery?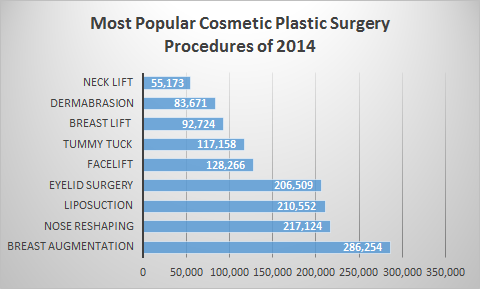 Even though 8 of the top 10 procedures came in with lower numbers than 2013, they make up a staggering 85% of the total cosmetic plastic surgery procedures in 2014.
Breast Augmentation reigns for the second year as the most common procedure with 286,284 reported procedures in 2014.
Rhinoplasty takes a not so distant second, beating out liposuction by a narrow 6,572 procedure margin.
Eyelid Surgery rounds out the honorable mentions, with a respectable 206,509 procedures performed in 2014.
What was Trending in 2014?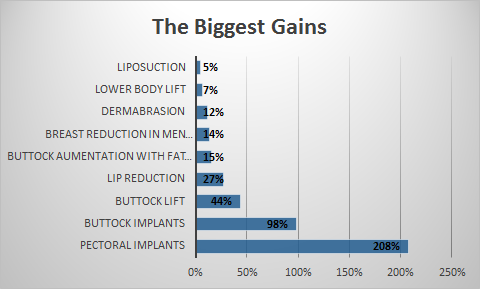 Let's hear it for the Boys
The winner for most improved goes to pectoral implants, with a booming 208% increase over 2013. Male breast reduction rounded out the top 5 with a 14, solidifying that plastic surgery is not just for women.
Baby got Back
Whether it's from the positive attention that curvy women are getting or the high profile deaths from using unverified cosmetic "surgeons", people are clamoring for professional buttock augmentation. 3 buttock augmentation procedures made the top five, for a total 16,803 procedures. This is an almost meteoric rise in popularity, considering that buttock implants were hardly considered a thing in 2000.
Minimally Invasive Procedures
The total amount of minimally invasive cosmetic surgery procedures increase 4% over 2013, according to the new statistics. Each of the top 5 procedures was performed over a million times!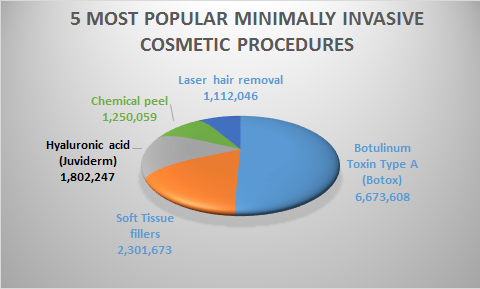 Botox is by far the most popular minimally invasive cosmetic procedure, raking in a staggering 6,673,608 injections in 2014, comprising 47.8% procedures performed. And why not? It has been considered safe to use since 2002 and has applications for treating migraines and muscle spasms.
Soft Tissue Fillers, like Radiesse or other collagen based fillers used to replace the fat beneath our skin to improve firmness, plump lips, and soften wrinkles, trail a distant 2nd, but still come in with over 2 million procedures performed.
Hyaluronic acid fillers, like Juvederm, round out the top 3. Hyaluronic acid is naturally found in your body, so there is less risk of reactions, which explains is rising popularity. It also brings water to the skin to keep it looking youthful and fresh.
What Can We Expect in 2015?
Cosmetic surgery is always evolving, but it's safe to say that the stigma attached to cosmetic surgery is a thing of the past.
"We expect the interest in cosmetic procedures — both surgical and non-surgical — to continue to climb in 2015 due to the improving economy, increased consumer awareness and a growing comfort level with the safety of cosmetic treatments," says Dr. Stephen Park, facial plastic surgeon and president of the American Academy of Facial Plastic and Reconstructive Surgery (AAFPRS) in a release.