The Hidden Benefits of a Tummy Tuck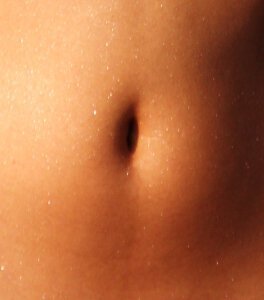 Abdominoplasty – more commonly known as a tummy tuck – is a cosmetic surgery procedure that flattens the appearance of the abdomen by tightening the muscles and removing loose skin and excess fat from the region. It is commonly associated with "mommy makeovers," which help women reshape their figures post pregnancy. Abdominoplasty is also commonly performed on people have had massive weight loss in order to reduce the amount of excess skin left behind when the weight is gone.
Abdominoplasty is rapidly growing in popularity. The American Society of Plastic Surgeons estimates that the number of tummy tuck procedures rose 70 percent from 2000 to 2013. While most abdominoplasty surgeries are performed for cosmetic reasons, there are a number of other benefits that patients may gain after having a tummy tuck.
Reduction of Stress Urinary Incontinence (SUI)
Stress Urinary Incontinence (SUI) is a bladder control problem that occurs in women, frequently after giving vaginal birth. It is associated with the uncontrollable leakage of urine with increased abdominal pressure. Patients typically find that it is triggered by coughing, sneezing, exercising or laughing.
In many cases, SUI can be treated non-surgically. However, for patients who require more extensive treatments, several studies have shown that abdominoplasty can help some women recover from SUI. It's especially effective for those who have not had a previous cesarean section. During these tummy tuck procedures, enough soft tissue is pulled up from the pelvic area to suspend the urethra and create a slight bladder obstruction that will reduce incontinence.
Improved Abdominal Tone and Better Posture
In addition to removing excess fat and skin from the abdomen, a tummy tuck tightens weak muscles. Patients who have lost a lot of weight or had multiple pregnancies often find that their stomach muscles have become distended to the point that diet and exercise alone will not correct them. In these cases, an abdominoplasty will surgically tighten the muscles and make the stomach flatter.
After a tummy tuck, some patients discover they have significantly improved posture. This is because weak abdominal muscles often go hand-in-hand with lordosis, the medical term for sway back. Once the abdominal muscles are tightened, the patients' spinal support is improved, which creates better posture and can alleviate back pain.
Ventral Hernia Correction
A ventral hernia is a condition in which the intestine or abdominal tissue breaks through the abdominal wall forms a pocket or sack. There are several potential causes, including abdominal weakness caused by massive weight loss, or surgeries like appendectomies or C-sections.
Quite often, the underlying needs for a ventral hernia repair and an abdominoplasty are the same. Both surgeries are the result of abdominal muscles that have weakened from stretching and from excess pressure on the skin. No matter whether the stretching was caused by pregnancy or too much abdominal fat, the abdominal wall becomes weakened, which permits a hernia to form.
Unfortunately, redeveloping a ventral hernia is a relatively common problem. Therefore, surgeons often evaluate whether it makes sense to do the hernia surgery with an abdominoplasty that will strengthen the abdominal wall and help prevent future hernias. In most cases, performing the surgeries in tandem is a safe and practical. Combining them can also help reduce medical expenses and cut down on recovery time.
Risks and Rewards
While many people believe that a tummy tuck is an easy procedure, it's important for patients to realize that it is still a major operation. A typical abdominoplasty removes up to 10 pounds of stomach fat. The skin is disconnected from the underlying tissue, the abdominal muscles are tightened with sutures, and any extra skin is cut away. The procedure usually takes between one and five hours in the operating room, under general anesthesia. A full recovery can take many weeks, and there are risks of infection and other complications, just as with any other relatively serious surgery.
That said, the various medical and cosmetic benefits of a tummy tuck make the procedure appealing for many people. Interested patients should discuss the procedure in detail with their surgeons and take all advice to heart before deciding whether to undergo surgery.