Understanding Blepharoplasty
Eyes are one of the first places where age begins to show. Bags and loose skin, drooping eyelids and brows caused by weakness or separation of the upper eyelid lifting muscle lead to a tired appearance. Blepharoplasty, the surgical repair or reconstruction of the eyelid, improves the appearance of both the upper and lower eyelids. It gives eyes a rejuvenated appearance, making patients appear more rested and alert.
The Basics
Blepharoplasty is an outpatient surgery that usually takes less than two hours, depending on the amount and location of the tissue being removed. Patients can return home within a few hours after the surgery. After surgery, patients may experience some swelling and tightness around the eyes, which should go away within two days, and a full recovery is expected within ten days. Scars are virtually nonexistent and will heal completely within a few months. Upper eyelid surgery can last from five to seven years and lower eyelid surgery rarely needs to be repeated.
Upper Eyelid
In upper eyelid surgery, the surgeon first marks the individual lines and creases of the lids in order to keep the scars as invisible as possible along these natural folds. The incision is made, and excess fat is removed or repositioned, and then the loose muscle and skin are removed. Fine sutures are used to close the incisions, thereby minimizing the visibility of any scar.
Lower Eyelid
In lower eyelid surgery, the surgeon makes the incision in an inconspicuous site along the lash line and smile creases of the lower lid. Excess fat, muscle, and skin are then trimmed away before the incision is closed with fine sutures.
What conditions can be treated by blepharoplasty?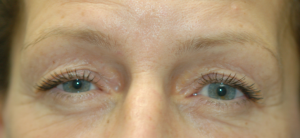 Upper Blepharoplasty (eyelid lift) preop
Bags under the eyes
Sagging upper eyelids
A tired, puffy-eyed appearance
Crepe-like, excess eyelid skin
Impaired vision due to eyelid imperfections
Extra skin and fine wrinkles of the lower eyelid
The Results

The results of these improvements are tighter, firmer skin, and wider, more open eyes that will look years younger, as well as healthier and refreshed. Functionality can also be restored to the eyes, such as peripheral vision that was before obscured by droopy, saggy eyelids.
 
Eyelid surgery can enhance appearance and help build confidence. Blepharoplasty may be coupled with any number of other procedures, including a brow lift, facelift, and Botox injections to give faces the most youthful, yet natural appearance possible. Eyes are a delicate part of the face, so it is important to find experienced surgeons. ARC Plastic Surgery, cosmetic surgery Miami center, has an expert staff of professional surgeons with years of experience in providing patients with the finest surgical procedures and techniques available.
 
At ARC Plastic Surgery, patients are given an initial consultation, where leading plastic surgeon Miami expert Dr. White will complete a personalized evaluation of the eyelid and brow area and discuss all of the options available to help patients decide the optimal approach.