Breast Implants Essentials
Breast implants are designed for use in cosmetic enhancement and reconstruction. They come in many different shapes, sizes, projections, and textures and with different fill materials.
Saline vs Silicone Gel
Saline Breast Implants
Saline breast implants are FDA approved for breast augmentation in women aged 18 years or older and for breast reconstruction in women of any age. These implants contain a silicone outer shell filled with sterile saline and have the following features:
May be empty initially (and filled during the procedure of implantation) or pre-filled
Available in different sizes
Have smooth or textured surfaces to their shells
Can be placed with integrated remote-fill ports: Also permit postoperative adjustment of implant saline volume
Less costly than silicone-filled products
Implant ruptures quickly detectable
Possible visible implant rippling on surface of augmented breast in women with thin breast tissue
Saline implants have the advantage of decreased cost compared to silicone-filled products. Moreover, if implant rupture occurs, this is usually more quickly recognizable. In patients with thin breast tissue, however, a higher chance exists that implant rippling will be visible on the surface of the augmented breast.
Silicone Gel Breast Implants
Silicone gel-filled breast implants are FDA approved for breast augmentation in women aged 22 years or older and for breast reconstruction in women of any age. These implants have a silicone outer shell filled with silicone gel of varying consistencies and feature the following:
Available in different sizes
Have smooth or textured surfaces to their shells
More costly than saline-filled implants
Have a more natural feel than saline-filled implants
Less noticeable rippling in thin-skinned augmentations
Cannot be placed through a transumbilical incision (unlike remote-fill ports) but can be implanted through periareolar, inframammary and transaxillary incisions
Silicone implants cost more but are widely believed to have a feel that is more natural and rippling in thin skinned augmentations is less noticeable.
Cost of Breast Implants
The cost of breast augmentation varies widely based on geographic area and type of breast implant used. Saline breast implants cost less than silicone implants, and anatomic shaped breast implants are the most expensive. The cost for breast augmentation without a lift typically ranges from $4,500 to $6,500. Miami revision breast augmentation is more complicated and can be more expensive, particularly when products like Alloderm and Strattice (acellular dermal matrix) are used to support the implant or prevent capsular contracture recurrence. Some surgeons might advertise a lower cost, but this does not often include anesthesia and facility fees. Also, remember that cosmetic surgery is still surgery, so we do not recommend shopping to find the cheapest doctor or company. It is most important that you find a meticulous board certified plastic surgeon who you can trust and with whom you feel comfortable.
Design Features
Textured vs. Smooth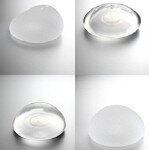 Textured versus smooth relates to the implant surface type and is a highly debated topic with regard to its effect on capsular contracture. In theory, textured surface implants may decrease capsulare contracture. The mechanism is thought to be the byproduct of breast capsule growth onto the implant surface, which, because of its texture, encourages disorganization of capsular fibers and thus also the resultant force vectors of contracting fibers.
Round vs. Anatomical
Experience with anatomically shaped implants is evolving. Theoretically, these implants may provide a more natural shape to the augmented or reconstructed breast. Thus far, there does not appear to be a large cosmetic advantage in teardrop-shaped implants in the breast reconstruction patient, but they might be more useful in certain cosmetic cases. The potential disadvantage to these implants is that they can rotate within the breast capsule and leave the patient with an inferior cosmetic outcome.
Adjustable Implants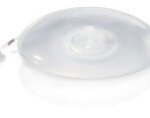 The novel advantage of these devices is that they permit the surgeons to adjust the implant size up to 12 months after the initial procedure. This is particularly helpful if a woman is unsure about what size breast she desires. Size change is accomplished via saline injection into a subcutaneous injection port or via an exteriorized injection port.
Surgical Dissection Planes
Implants can be placed either subglandular, submuscular (underneath the pectoralis muscle), or in a dual plane with the superior part of the implant being covered by muscle and the inferior part under the gland.
Subglandular (prepectoral) augmentation does an excellent job of restoring breast shape and, compared to subpectoral dissection, may be a more powerful tool to correct minor breast ptosis. The disadvantage is that, in patients with little breast tissue or soft tissue cover, a higher incidence of visualization of the external contour and rippling of the implant may occur. The subglandular approach has been shown to have a higher rate of capsule formation than when the implant is placed under the pectoralis muscle. The implant can also ride high or migrate laterally over time. However, most implants that ride high initially will ultimately settle in their appropriate location once the pectoralis muscle relaxes to accommodate the implant.
Submuscular (subpectoral) augmentation carries the advantage of lower capsular contracture rates and thicker soft tissue coverage to minimize the appearance of ripples. The down side is that patients who have well-developed pectoralis muscles may show animation ("dancing") of the implants upon muscle flexion. The implant can also ride high or migrate laterally over time.
The dual plane technique combines the advantages of these 2 dissection methods. Soft tissue coverage is improved at the superior pole of the breast, with an associated low contracture rate, but less of a problem with implant animation and the "double bubble" deformity that occurs when the gland slides inferiorly off of the implant (see the image below).
Follow-up / Monitoring
Breast implants are not lifetime devices, but most companies guarantee them for 10 years in case of rupture. Saline implant rupture is often more easily detected on physical examination than silicone implant rupture. Therefore, the FDA recommends that women with silicone gel implants get breast imaging with MRI to detect silent rupture three years after implantation and every other year after that. With saline implants, patients should proceed with their recommended mammography protocol for breast cancer screening.
Potential Complications
In general, complication rates are almost always higher in breast reconstruction than in primary cosmetic surgery.
Seroma: Thin fluid collection around the implant
Infection: Most commonly due to Staphylococcus aureus from the skin or lactiferous ducts but also by more rare pathogens such as Candida albicans, Curvularia spp, Aspergillus niger, mycobacteria, andClostridium perfringens
Changes in nipple and/or breast sensation: Hypersensitivity or hyposensitivity
Implant rupture: Incidence of about 5-10% at 10 years
Issues with lactation: Difficulty breastfeeding in up to 20% of women
Anaplastic large T-cell lymphoma of the breast: Rare; potential association with breast implants without proof of causation
Pain
Implant displacement
Implant rippling
Capsular contractures
Hematoma: Blood collection within the breast that often causes localized swelling and pain necessitates evacuation
Is there a difference between the brand of implant my plastic surgeon uses?
The three main breast implant companies in the US are Allergan, Mentor, and Sientra. They are all excellent breast implant companies and FDA approved for use in the US. The implants may vary in cost, but Dr. White, Plastic Surgeon in Miami, will help you choose the breast implant that is right for you.