Can Rhinoplasty Help Alleviate Allergy Problems in South Florida?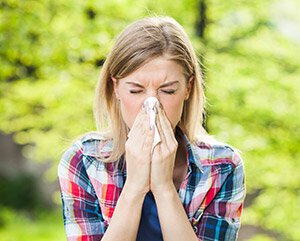 In South Florida, it can feel like every season is allergy season! Even though most people assume that allergies are better in the winter, this is not always the case. When the temperature dips, indoor heating systems fire up and start circulating the dust and allergens that have been hidden in vents, under furniture, and in carpets. This can be brutal for allergy sufferers, particularly when chilly temperatures keep them indoors and prevent them from airing out the house.
In addition to sneezing and sniffing, allergy sufferers in South Florida are at higher risk for recurring sinus infections. Allergies make the sinuses and nasal passages swell, which keeps sinus cavities from draining. The excess congestion frequently results in a painful infection.
Given all the respiratory issues faced by allergy sufferers, some wonder whether a rhinoplasty in Miami (or nose job) can alleviate the systems. The answer is, "it depends."
A functional rhinoplasty – or septoplasty – is a type of nasal surgery that targets nose function, rather than aesthetics. It can help improve the function of the nose and can help fix some types of breathing problems. However, it's important for patients to understand that allergies are not triggered by structural problems of the nose. They are caused by the immune system's overactive response to an irritant, like pollen or pet dander.
While a functional rhinoplasty will not cure allergies, it may make allergy symptoms more bearable for some patients. Allergy sufferers who also have a deviated septum have a particularly difficult time breathing during allergy season. A septoplasty to repair a deviated septum will open up the nasal passages, which can reduce some of the complications associated with allergy-induced nasal swelling.
A functional rhinoplasty can also be used to reduce the size of enlarged turbinates, the structures on the interior wall of the nose which can protrude and obstruct air flow. If the turbinates are already enlarged and then swell during an allergy attack, breathing becomes much more difficult. Reducing the size of a patient's turbinates will not cure allergies, but it may help them breathe better during allergy season and year round by keeping the nasal passages more open.
For South Florida allergy sufferers who do not have issues with deviated septums or enlarged turbinates, there is really nothing that a functional rhinoplasty or septoplasty can do to help relieve symptoms. However, allergies should not stand in the way of anyone who wishes to pursue a rhinoplasty for cosmetic reasons. Many people in South Florida have been able to get the nose they want, whether or not they suffer from allergies. Patients just need to talk to their surgeons, or one of our Miami plastic surgeons, about their allergies and any medications they are taking, as that information is necessary in helping plan a successful rhinoplasty and recovery.