Is a Cosmetic Surgeon a Plastic Surgeon?
In short, no.
Cosmetic surgery can be performed by physicians of various specialties. The most important credential to look for is board certification. Though it may not seem like an issue, board-certified plastic surgeons undergo rigorous training and certification before they are allowed to operate. It is only with board-certified doctors that you can rest assured that you are dealing with a licensed professional.
What's the difference between a Cosmetic Surgeon and a Plastic Surgeon?
A plastic surgeon has to complete a much more diverse course load, including reconstructive surgery, complete a lengthy residency to meet the American Board of Plastic Surgery's training requirements and pass and oral and written examination before they are qualified by the board.
A cosmetic surgeon focuses on purely cosmetic surgery. The requirements to become a board certified cosmetic surgeon are far less stringent, usually only requiring a one-year fellowship after their primary training. It important for you to ensure that your surgeon has had the vigorous training of a plastic surgery residency.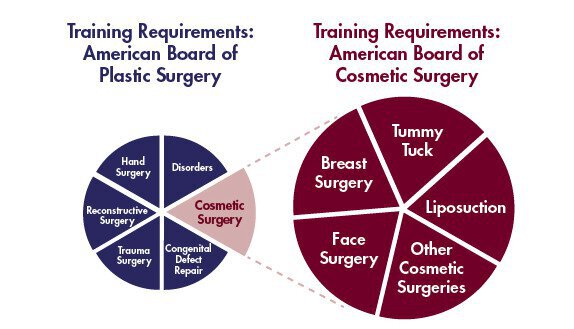 The difference between minimum training requirements for the American Board of Plastic Surgery versus the American Board of Cosmetic Surgery. Source: http://www.americanboardcosmeticsurgery.org/
Hospitals require extensive verification of their surgeons before they are allowed on site. Their credentialing process can take months to complete and most only accept surgeons certified by the American Board of Plastic Surgery the privilege of working in their facilities.
Why all the emphasis on credentials and education? Though a cosmetic surgeon may be able to give you a breast augmentation or a tummy tuck, they will not be a good resource if something goes wrong and your procedure becomes more complicated. The term cosmetic surgeon is not recognized by the American Board of Medical Specialties. So, before you get ready for your procedure, it is important to make sure your doctor has completed the necessary training.
A plastic surgeon is able to treat and correct a broad range of conditions, and he is less likely to make a mistake in the first place. Before you start reinventing your appearance, it is important to make sure that your surgeon is well-qualified. Schedule an initial consultation with our board-certified Miami Plastic Surgeons, so you look your best, without worrying about where you're placing your trust.