Male Breast Reduction
Enlarged male breasts, a condition technically known as gynecomastia, are sometimes humorously referred to as "man boobs." However, anyone afflicted with this condition knows that it is far from a humorous matter. If you are a man, having noticeable breasts can be embarrassing and stressful.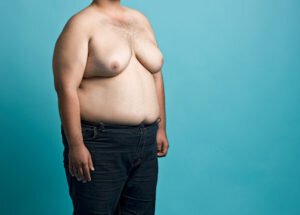 Distressing as it may be, gynecomastia is actually a common condition. It occurs frequently in newborn infants (due to the estrogen from the mother), during puberty, and as reported by the Mayo Clinic, in at least 1 in every 4 men in the 50 to 69 age group. Fortunately, the problem can be corrected with a male breast reduction procedure to reduce breast tissue and restore masculine contours to the chest.
What Is Male Breast Reduction?
Male breast reduction is a surgical procedure in which male breast size is reduced and chest contours are flattened to appear more masculine and fit. This surgery is typically performed on an outpatient basis. It involves liposuction to remove excess fat in the breasts, and may involve excision to remove glandular tissue and excess skin. Dr. Jeremy White at ARC Plastic Surgery, a Plastic Surgery Clinic in Miami, performs the procedure through an incision in the nipple area, where it is hidden when healed.
Why Would a Man Need Breast Reduction Surgery?
Men have male breast reduction surgery to remove the inconvenience and embarrassment of having enlarged breasts. This surgical procedure is the most effective treatment for gynecomastia Miami has to offer. While weight loss can reduce the amount of fat in the chest and reduce the appearance of enlarged breasts in some men, it can do nothing to reduce excess glandular tissue caused by hormones.
Gynecomastia can develop for several different of reasons. Common causes of this condition are:
Hormonal factors: The two hormones governing secondary sex characteristics are testosterone and estrogen. Testosterone produces masculine characteristics and estrogen produces feminine characteristics, including female breasts. When testosterone levels are lowered and/or estrogen levels are increased in males for any reason, it can lead to gynecomastia. This can happen in the 50 to 69 age group when testosterone levels decrease with aging.
Genetic factors: For some men, gynecomastia is related to genetics rather than puberty or aging. Although these men have normal amounts of estrogen circulating in their bodies, they are genetically predisposed to be particularly sensitive to this hormone in the chest region and develop enlarged breasts as a result.
Drugs and medications: Use of marijuana, amphetamines, heroin, methadone, and alcohol can increase the risk of enlarged male breasts. Certain medications can cause gynecomastia as a side effect, including steroids, heart medications, anti-anxiety drugs, anti-depressants, antibiotics, heartburn meds, and chemotherapy.
Health conditions: Certain medical conditions that affect hormonal balance, such as hyperthyroidism, cirrhosis of the liver, and kidney failure, can lead to gynecomastia.
A male breast reduction procedure can provide both physical and emotional benefits for men with gynecomastia. When large male breasts are corrected, masculine pectoral muscles appear trim and normal. Men who have had this procedure no longer have to wear overly large shirts in an attempt to hide the condition, and can actually wear clothes that are form-fitting, and look great. With masculine chest contours restored, men feel far more confidence in their appearance and free to be shirtless, in public or private, when the occasion arises.
Recovery after Male Breast Reduction Surgery
Bandages or dressings will be applied to your incisions after surgery. You may be given a compression garment to wear to minimize swelling and support your chest to keep you more comfortable and help your chest heal as it should. A thin tube may be placed under the skin temporarily to drain off excess blood or fluids.
You may feel sore for a few days after the procedure. Your doctor will likely give you a prescription, or you can use an over-the-counter medication such as Tylenol to control post-surgical pain. Depending on the nature of the work, many patients are ready to return to work within a few days after male breast reduction surgery.
Male Breast Reduction Surgeon in Miami
At ARC Plastic Surgery in Miami, Dr. Jeremy White performs male breast reduction surgery with precision and skill. Dr. White is a double board-certified plastic surgeon with extensive experience and numerous "Top Doctor" awards. If you are tired of the embarrassment and inconvenience of excessive male breast tissue, schedule a consultation with Dr. White to discuss some of the most effective male breast reduction Miami has to offer.
Sources: