The "Lunch Hour" Facelift
Facelift Patients Have Many Non-Surgical Options When Looking to Rejuvenate Their Skin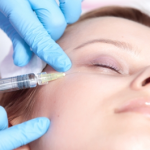 Many people desire younger-looking skin but want to avoid the recovery time and potential complications associated with facelift surgery in Miami. Other people may simply want to make changes gradually, so that friends and colleagues are less aware of the procedure. In these cases, a Miami non-surgical facelift may be just what the doctor ordered!
The "lunch hour facelift" – sometimes called a non-surgical facelift or a liquid facelift – uses injectables to tighten the skin and mimic the effects of a traditional facelift surgery. The injectables can reduce the appearance of excess skin and smooth out fine lines or deep wrinkles. They can also be used for non-surgical eyelifts or to plump up any hollows around the temples or cheeks. Best of all, the procedures can be performed right in the cosmetic surgeon's or dermatologist's office, and most don't require anesthesia.
The most common injectables used in these non-surgical procedures include Botox, Restylane or Radiesse. These can be used in combination with laser resurfacing or Thermage to further refine the skin's appearance. Most patients opt for facial treatments, but there are some who use the same products and techniques for their hands or necks.
In many cases, healing times are very short, and results are visible almost immediately. Some injectables will provide optimal results the same day as the procedure, while others may take a few days to produce their full effect. However, with any injectable, the results will fade gradually over time, and the duration will depend on the type of material that was used. Collagen-based fillers tend to last three to four months, while hyaluronic acid fillers can last between six and 12 months. Generally, patients need to schedule touch-ups to maintain their desired results.
The popularity of the lunch hour facelift has been growing so fast that the American Society for Aesthetic Plastic Surgery (ASAPS) estimates the use of injectables increased 21 percent in the U.S. last year. Over 7 million procedures were performed, and the typical patient was a working, married woman between the ages of 40 and 55 with one to three children. Nearly half of the patients had total household incomes under $100,000.
However, the popularity and affordability of non-surgical facelifts is not without risk. In Miami, facelift "parties" have become prevalent, with patients gathering up friends and family to have the injections done at home – and in volume – so they can receive a discount.
Having any kind of cosmetic procedure done in this kind of setting is concerning for any reputable Miami facelift surgeon. First, alcohol is often involved, and there is an element of peer pressure. Also, it's important for patients to keep in mind that injectables are still drugs, and they need to be administered in a clinical setting by a licensed professional. Should anything go wrong with the procedure, it's important that the patient be in a medical facility so that the proper treatment can be administered quickly and effectively. Finally, if a patient is pregnant, nursing or trying to become pregnant, they should consult with their doctor before having any kind of non-surgical facelift procedure.
That said, injectables can still be a good alternative to surgery, as long as the patient fully understands the procedure, effects and risks. Miami facelift patients may want to explore these options before committing to a more invasive procedure.