Most Common Plastic Surgeries in North Miami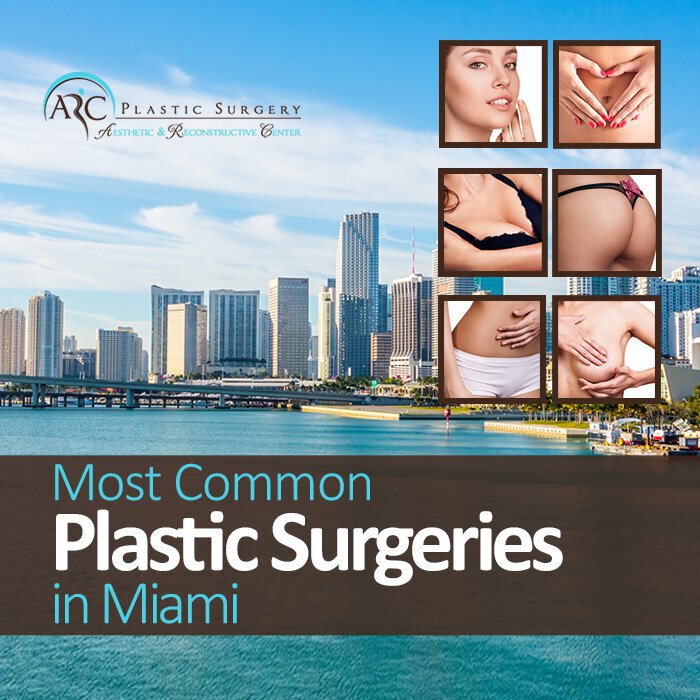 Miami is one of the plastic surgery capitals of the world, let alone the United States, with a surprising 18 plastic surgeons for every 100,000 residents over the age of 18. This is not so surprising, however, when you consider the culture and atmosphere of the Magic City, with its beautiful beaches and people. Miami offers its residents plenty of opportunities to get out and enjoy the sunshine while fostering a fierce competition for whoever is the prettiest belle (or Bill) of the beach. With so much pressure to stay attractive, many Miami locals turn to plastic surgery to keep their appearance in top shape. Here are the most common plastic surgery requests in Miami.
1. Rhinoplasty

The word rhinoplasty comes from a Greek root word meaning "nose or horn," also seen in "rhinoceros." However, most of those who opt for rhinoplasty don't have a horn to remove. Rather, it is more common for rhinoplasty requests to involve nostril reduction or bridge straightening.
A good nose job involves minor alterations that most people may only subconsciously notice and appreciate, similar to waiting for friends to notice a new haircut. For those who have had a rhinoplasty, however, it's a difference they see and love every day.
2. Face Lift
A surgery that numerous celebrities as well as the show Nip/Tuck have made famous, the face lift is most commonly requested as a remedy for sagging and wrinkly facial skin. The only drawback might be a face lift that gets a little too tight. Fortunately, choosing a surgeon with an aesthetic eye can prevent the "smile that never fades."
3. Breast Augmentation
Breast augmentation is a great way to lift sagging breasts and even increase size, although not many choose to go the Katie Price or Jodie Marsh route.
4. Liposuction
Perhaps not the prettiest process, liposuction is a fat removal procedure that literally sucks the fat out of the patient's body. In some cases, this harvested fat can be re-used to lift and firm other areas, for instance the buttocks. Talk about waste not, want not. There are several different types of liposuction to choose from, including "tickle lipo," which is (fortunately) not what you'd think.
5. Tummy Tuck
For those who have tried everything and still cannot get rid of that stubborn stomach pudge, the tummy tuck is a useful alternative. Whether to assist your weight goals or return to pre-pregnancy shape, many find the tummy tuck procedure to be a practical and effective way to get that hourglass look back in time for beach season; just be prepared for a slight shift in your belly button positioning.
6. Facial Rejuvenation
We've all seen a bad Botox job. Thankfully, the majority of plastic surgeons are trained to develop subtle techniques along with an artistic eye for a skin upgrade that will be constantly complimented rather than landing on a Buzzfeed "Top 20 Worst Ever Plastic Surgery Jobs" list.
7. Butt Lift
Gorgeous beaches? Check. Flirty new bikini bottoms? Check. Gluteus in maximus shape? If the answer is anything less than a resounding yes, many Miamians opt for a butt lift procedure that does just as advertised.
8. Brow Surgery
As people age, their brows and the area around their eyes are often the first things to betray age. Many people opt for a brow and/or eyelid lift to prevent or decrease these signs of aging, or maybe they just want their coworkers and significant others to stop telling them they look tired and sad all of the time.
9. Mommy Makeover
As most mothers are familiar with, having a baby can have an enormous impact on their body, and it is not always easy to bounce back from it. During most "Mommy Makeover" procedures, breasts are restored to their former volume at the same time that a simple tummy tuck procedure is performed, to ensure that Mom is back on her feet in no time.
10. Breast Reduction
Breast reduction is another common request from both men and women. For women, the size of their breasts can weigh them down, causing back pain and making bra shopping a pain in the chest.
 
Stay competitive in the dating scene or in your career field with professional plastic surgery. Most people report an increase in self-worth and confidence after having plastic surgery done. What price tag can you put on that?