How to Manage and Reduce Bruising After a Nose Job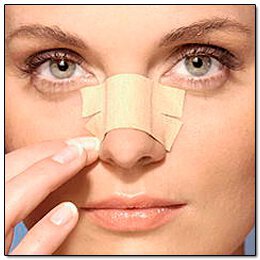 Bruising under the eyes and cheek bones is an expected and common side effect of rhinoplasty and is part of the body's healing process. While the vast majority of patients who have a nose job done by a reputable and experienced plastic surgeon have little noticeable bruising after about a week, there are a few that experience severe bruising.
In some cases, severe bruising is outside of the surgeon's and patient's control. For example, older patients tend to bruise more easily because blood vessels become more fragile with age. Also, patients with bleeding disorders or those taking prescription medications to thin the blood will likely experience increased bruising after a rhinoplasty. These factors do not mean that the surgery cannot be done, but it's important to discuss everything with the surgeon so that the proper precautions can be taken.
It's also important for patients to follow their surgeon's directions in order to minimize bruising and speed recovery after a rhinoplasty. After evaluating a patient's health and circumstance, it's likely that the plastic surgeon will recommend some of the following approaches to keep bruising at bay:
Avoid blood-thinning medications, but only if they are non-essential. Obviously, any medication that is critical to maintaining good health should not be discontinued. However, if possible, blood thinning medications – including over-the-counter pills like aspirin and ibuprofen – should be stopped for at least two weeks prior to a rhinoplastly. This is because these medications can cause more blood to "leak" from the blood vessels during the procedure, which will increase bruising.
Avoid high amounts of Vitamin E, Ginseng, Ginko and fish oils, which can all promote bleeding. This includes stopping any multivitamins, herbs or teas that contain these ingredients.
Apply ice packs or even bags of frozen peas to the cheek area for at least two days post-rhinoplasty. The cold will reduce swelling and help the bruises heal more quickly.
Keep the head elevated in order to reduce swelling and decrease bruising.
Avoid smoking and drinking for two to three weeks before and after the rhinoplasty. Nicotine acts as a vasoconstrictor, which decreases blood flow to the tissue and inhibits healing. Alcohol consumption can also increase the risk of complications during surgery, and it should never be consumed in conjunction with prescription pain killers.
Other than following the pre- and post-rhinoplasty directions, the most important factor in minimizing bruising is the surgeon's own skill. A knowledgeable and practiced surgeon will be able to reduce the number and severity of the cuts and breaks needed to reshape the nose, and he or she will be able to preserve the integrity of the surrounding tissue and bone structures. Minimizing the trauma done to the nose during the procedure is the key to curtailing bruises post-surgery.
Overall, fears about bruising are not unfounded, but they should not deter anyone from seeking a rhinoplasty. By selecting the right Miami plastic surgeon and following pre- and post-surgical instructions, patients should be able to minimize any noticeable bruising within about a week.