A Recovery Story: Life after Rhinoplasty
Recovering from a rhinoplasty – or nose job – varies from patient to patient and is somewhat dependent on how much is altered during surgery. However, there are a few universal stages in the recovery process, and patients should know what to expect in order to be as prepared as possible.
Week 1: Immediately after Nose Job Surgery
In the final stage of a nose job surgery, some combination of a splint, bandage or cast is placed around the nose to help maintain the new shape during the initial healing process. For most patients, these supports, along with any remaining stitches, are removed in about five to seven days.
In the first week after rhinoplasty, it's very common to have swelling and bruising around the eyes and nose. Most patients also experience headaches or severe nasal blockages from the swollen nasal passages. Cold compresses and prescription or over-the-counter pain relievers are generally recommended to help alleviate symptoms. However, please do not try to relieve congestion by blowing your nose. Patients may also need to keep their heads elevated for a few days, and it will take a few weeks before strenuous activity can be resumed.
Antibiotics are often prescribed after a nose job in order to reduce the risk of infection. However, it's still important for patients to watch for any signs of infection, as they can occur even with the antibiotic regimen. This can include worsening pain, swelling, redness, fever, red streaks or pus.
Week 2: Getting to Know Your New Nose
During the second week of recovery, patients typically see the most improvement in swelling and bruising. While patients may personally still feel self-conscious, most friends, acquaintances and coworkers will not be aware of any swelling or bruising.
Many people can return to work during the second week of recovery, as long as their occupations do not require any strenuous activities. Gentle washing of the face can be resumed and a little cover-up or makeup can also be applied.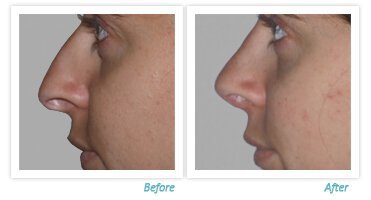 Weeks 3+
Three weeks post-rhinoplasty, about 70 percent of swelling is gone. This is the time when a patient starts to recognize the changes and begins to appreciate the new shape of his or her nose. It's ok, actually quite normal, to feel a little self conscious at this time. The finer details will still take about three or four more weeks to emerge, and the nose will feel foreign to some degree. Common movements like smiling or talking can feel odd, and most patients experience a "pulling" sensation or bit or pain if they rub or bump their noses. The tip may still be partially or completely numb three weeks after surgery – in fact, it can take up to six months or longer for feeling to completely return.
Some patients also notice that their noses run more, especially if they have allergies. While it's fine for most patients to resume rigorous activity three weeks post-rhinoplasty, the swelling may return temporarily when doing anything strenuous. In addition, the skin around the nose may be more prone to breakouts or sunburn.
All of these things are irritating reminders of the surgery, but they do eventually improve as the tissue around the nose normalizes and the inflammation dissipates.
Maintaining Results from Rhinoplasty
Apart from a major bump or injury, there really aren't many things a patient can do to permanently ruin the outcome. The most important thing for patients to do is to follow their doctors' instructions fully and completely. It can help reduce the risk of complications, and it can help speed recovery time.
It's also important to note that the results of a nose job are permanent. If revision rhinoplasty surgeries are needed, the recovery process is slowed down with each additional procedure, sometimes taking up to two or more years to see the changes.
Rhinoplasty is often considered to be a minor surgery. However, as with any surgery, there are complications, risks and recovery time to consider. Patients need to ensure they can take the necessary time to care for their bodies in order to fully heal from the procedure.