What's the Cure for Sagging Breasts?
An old expression says that nothing is certain in life but death and taxes. But as many women know, ptosis (the medical name for sagging breasts) could be added to that list!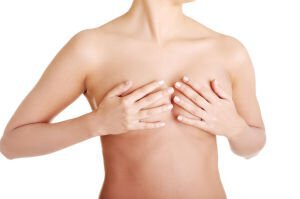 Breasts sag as women age because the Cooper's ligaments – the connective tissues in the breasts – stretch out. The Cooper's ligaments are made of collagen and elastin, which break down as people age. Menopause can play a role, too, as dense glandular tissue is replaced by fat which is more likely to sag. Contrary to popular believe, breast feeding does not cause breasts to sag, although pregnancy itself can contribute to the problem. Weight gain during pregnancy often causes the Cooper's ligaments to stretch, resulting in saggy breasts. Smoking and sun tanning also break down collagen, and can make breasts droop.
Other than avoiding smoking and tanning, not much can be done about this phenomenon. Wearing a bra 24/7 will not help breasts defy the pulls of gravity and the natural aging process. Neither will exercises that target the breast area. Breasts are made up of fat so they cannot be tightened and toned in the same way that muscle can.
Because there is no natural cure for saggy breasts, many women turn to breast augmentation and breast lift procedures in order to look and feel their best.
Breast Augmentation and Breast Lift Procedures
A breast augmentation – otherwise known as augmentation mammaplasty – will increase the size or volume of the breasts. Many women opt for this surgery after pregnancy or a significant amount of weight loss leaves the breasts looking less full than before. Implants or the patient's own fat can be used to create the desired result, depending on how substantially the patient would like to increase breast size. Fat transfer is a good option for those who want a relatively small increase in breast size, while implants can provide a more dramatic result.
While breast augmentation surgery can increase the fullness and projection of the breasts, it will not correct sagging. Therefore, breast augmentation is often done in conjunction with a breast lift in order to make the bosom look fuller and more lifted. The two procedures can often be done at the same time, though sometimes they may require separate operations.
A breast lift, or mastopexy, raises the breast by removing excess skin and tightening the surrounding tissue. This reshapes and supports the breast so it no longer sags. A breast lift can also reduce the size of areolas if they have become enlarged over time. It's a popular procedure that has outpaced breast augmentation by 2-to-1 since 2000, according to the American Society of Plastic Surgeons.
While many women experience breast sagging as they age, the good news is that corrective surgeries are available, should they wish to explore the options. Women wanting to learn more about breast augmentation or breast lift procedures are encouraged to speak with a qualified plastic surgeon about the options, risks, recovery time and expected results.