Hello Handsome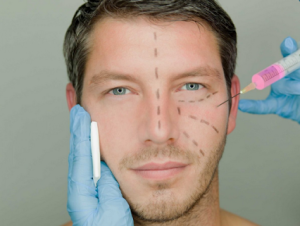 Photo credit: Business Insider
Many people still think of plastic surgery as being geared towards the predominately female marketplace it serves. Though they may not admit it, men are just as concerned about their appearance as women, and there has been a rapid rise in the number of cosmetic procedures performed on men, from facial rejuvenation and laser hair removal to sculpting Spartan abs and (giggle) penis enlargement.
According to statistics from the American Society for Aesthetic Plastic Surgery, men currently account for nearly 10% of plastic surgery procedures, an increase of 121% from 15 years ago.
The Most Popular Plastic Surgery Procedures for Men
Liposuction. Avoid dozens of crunches, and still shed fat and get the appearance of attractive 'washboard' abs. Sometimes called liposculpture, more than 40,000 men opted for some kind of liposuction procedure in 2014.
Laser hair removal. For men that want bid a final hasta la vista to hairiness. Laser hair removal is effective because it permanently eliminate the hair follicles, showing big results after only a few treatments. However, it doesn't work as well on gray or blonde hair, because the lighter pigment make it more difficult to find.
Facial Fillers. Women aren't the only ones concerned with fighting the signs of aging. With the recent approval of Voluma, a longer-lasting filling agent, you can expect to see an increase in application among men in the year to come. Just make sure that you keep a few "crows feet" for good measure (they make you look dignified).
Botox. By far the most common cosmetic procedure for men, Botox use among men has skyrocketed in the past decade. According to the American Society of Plastic Surgeons, of the nearly 6.5 million Botox procedures done in 2013, men got about six percent. But since 2000, that number has jumped 310%.
Rhinoplasty. "If done properly, people will think a man lost weight or got a new haircut, rather than noticing that it's his nose that's changed," explains Dr. White. Rhinoplasty is done by sculpting the cartilage into a more desirable shape, however, if there is not enough cartilage, the doctor can use a part of the nasal septum as a graft.
It's widely known that personal appearance affects confidence, often impacting job performance. Whether you want to move up the corporate ladder, look fitter or take years off your face, scheduling a consultation with Dr. Jeremy White at his Miami Plastic Surgery Clinic could be the first step you need to take to reach your goals. Having been awarded both the Top Plastic Surgeon award in Miami, FL and the Top Plastic Surgeon award for Florida, Dr. Jeremy White is a proven surgical professional with years of experience.